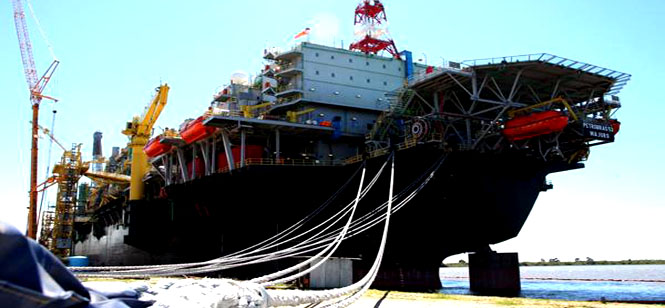 Motors, Generators and Panels are applied to Pumps, Compressors and Turbines on a platform with size corresponding to the Maracanã stadium.
WEG electric machines, designed and manufactured in accordance with the most advanced technological processes, were evaluated in conformity with strict certification criteria by inspectors of all companies taking part in this supply (equipment manufacturers, certification entities, QUIP and Petrobras).
On P-53 WEG motors drive the water injection pumps, which are responsible for the pumping of water into the oil well, avoiding an internal low-pressure condition and maintaining high levels of extraction, as well as the pumps responsible for the oil production outflow in the platform, and also those responsible for cooling systems.
The compression modules at P-53, which are supplied by DRVA, a consortium of Dresser-Rand and Vetco Aibel, count on three 13,500kW, 4 pole, 6600V, synchronous motors driven by frequency inverters, and were provided by WEG to Dresser-Rand in USA. Dresser-Rand is one of the largest and most important process suppliers for platforms as well as for the Oil & Gas market in general.
Three identical motors are already in operation at Petrobras P-54 platform driving also Dresser-Rand compressors, exporting the gas extracted from Module 2 of Roncador Field, in the Campos Basin in the state of Rio de Janeiro.
The P-54 project will provide a production of 180 thousand barrels of oil and six million cubic meters of gas per day where the motors supplied by WEG play an essential role to reach these numbers.
The three motors supplied to P-53 are just waiting for the platform to start operations. This platform will be located about 120km away from the coast, at the Marlim Leste oilfield, which is a part of the Campos Basin, and will produce the same amount of oil and gas as P-54.
Generators and panels
P-53 platform also counts with four 28.75MVA WEG generators driven by the generation modules turbines, and WEG scope of supply for the FPU also includes a 42 columns Load Center of 4000A - 65kA (resistant to internal electric arc) and a 49 removable columns MCC.
Specially designed for offshore application, the low voltage panels will be installed on Electric Modules P-08 and P-06, and all of them have been totally tested and approved being Bureau Veritas certified.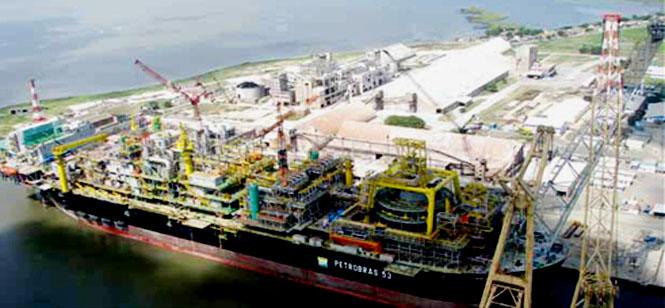 ---
WEG motor control packages specified for Oman steam injection oil recovery project: rugged CFW-09 VF Drives and DOL Controls Are Helping EN-FAB, Inc., Reach Target Production Goals.
The Sultanate of Oman (Oman) is a country in the Middle East, located on the southeastern tip of the Arabian Peninsula. As with many countries in this region of the world, Omani economy is largely dependent upon the production of oil and gas.
Its neighbors—the United Arab Emirates on the northwest, Saudi Arabia on the west, and Yemen on the southwest—all benefit from huge deposits of easily retrievable light oil. Oman, however, is a relatively small country with maturing oilfields and finite reserves. Its proven reserves are being depleted, limiting future production to the extraction of largely unexploited heavy oil in formations in the hot,
arid regions of its interior. In recent years, Petroleum Development Oman (PDO), the country's dominant energy company, has embarked on a drive to reverse Oman's declining oil production and improve the country's future outlook by diverting its focus onto enhanced oil recovery (EOR) methods. Among these methods: steam injection technology, in which heavy viscous oil is thermally stimulated to improve recovery. This technology is increasingly becoming more common and has been used successfully elsewhere in the Middle East, North America, China, Russia and South America.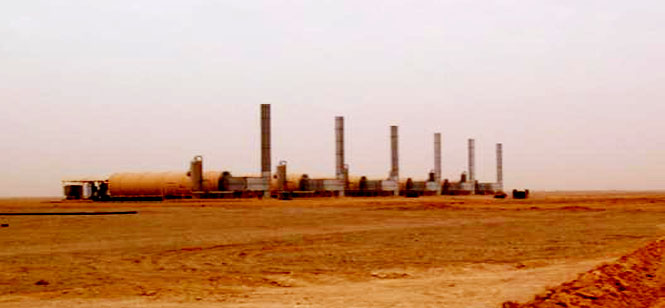 Such efforts are now underway in an oil field on Oman's vast gravel desert plain—a full-scale steam injection project that partners EN-FAB, Inc., and WEG Electric Corp.
Because of its expertise, EN-FAB, Inc. was contracted to design and install 100-million-BTU steam generators in the oil field. Based in Houston, Texas, EN-FAB specializes in the design, engineering, and fabrication of surface equipment for the oil and gas industry. Since 2006, WEG has delivered 34 motor control packages now in use by EN-FAB to control multiple motors on each of the steam generators.
"WEG is one of our major vendors because we have had a good working history with them on other steam generation projects throughout the world," said Chandra S. Tripathy, President of EN-FAB, Inc. "Their commitment to us is evident throughout all aspects of their equipment production—from engineering design, to on-time deliveries, to post-sale support of their installed products. Also, WEG is the only motor and drive equipment we would trust in this harsh environment."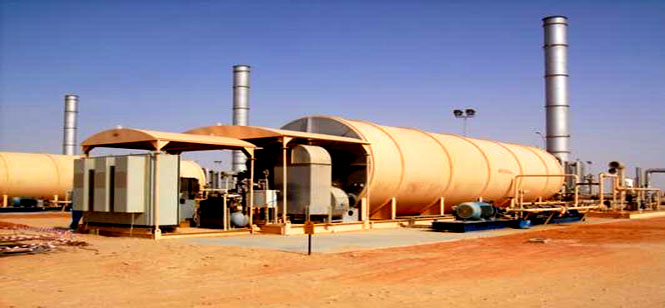 To date, EN-FAB has specified WEG's CFW-09 Series variable frequency (VF) drives and customized control packages with direct on line (DOL) starting, to help run the main and booster pumps that supply water to the steam generators, as well as the large fans for combustion air to the burner assembly. Since the WEG motor/drive combination has worked so well, EN-FAB has asked other equipment vendors to supply two- and four-pole WEG motors on their equipment to complement the use of the WEG VF drives and controls.
What makes WEG motors, drives, and controls EN-FAB's products of choice in Oman?
"It's their ruggedness and their ability to operate at differing voltages and frequencies," says Michael Smith, WEG's Automation Sales Engineer. "The location of the field presents unrelenting challenges for motors and drives, and the equipment they power. In Oman, ambient desert temperatures can reach 129 degrees (Fahrenheit) in the hot season and sand storms are prevalent."
In these conditions, Smith notes, it is critical to have "rugged, low-maintenance motors, variable frequency drives, and control packages capable of reliable and repeatable performance."
The WEG CFW-09 series of VF drives features Vectrue Technology™ and is among the world's most advanced technology in drives for three-phase AC induction motors. The series provides users with the benefits of software selectable V/F, sensorless vector, and closed loop vector (with encoder) control techniques in one product.
WEG's involvement in large recovery projects, such as the one in Oman, is helping change its perception as just a manufacturer of electric motors, to that of a global provider and supplier of complete automation solutions. In the beginning of 2008, the project in Oman had reached a target of 32,000 barrels of oil with only six steam generators on line.
"Because there is a direct correlation between the amount of steam injected into the formation and the amount of oil recovered, production should increase proportionally as EN-FAB brings additional steam generators on line," said Smith. "In the meantime, WEG will continue our commitment to provide them with rugged motor, drive, and control solutions, as well as with the personnel and field support they can depend on to continue to achieve their target production goals."
---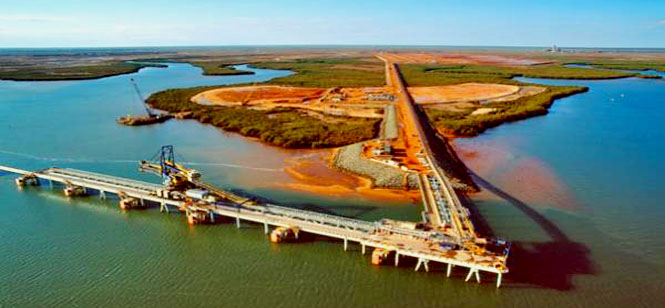 The Fortescue Metals Group's Cloudbreak mine site and Herb Elliot Port in Port Hedland, Western Australia is almost completed. 24 WEG motors are installed at the mine and the port facilities.
Specialized in the extraction of iron ore in the Australian desert, the Cloudbreak mine has more than 20 WEG motors. The mine is using WEG motors on the crushers and major belt conveyors; at the port WEG motors are used for belt conveyors and the new stacker, thereby forming an integral part of the Fortescue Metals Group (FMG), in the Australia.
All of the WEG motors were manufactured for VVVF drive duty with capacities of 450 kW, 630 kW, 710kW, 750kW and 1000kW.
FMG is a new force in mining in Western Australia specializing in the extraction of iron ore in the Australian desert.
Record
Construction of Fortescue's port, rail and mine project commenced in February 2006 with the construction of the port site in Port Hedland. Just two years later, the open-access rail infrastructure is complete, the Fortescue's Herb Elliott Port is operational and the mining operations at the Company's first minesite are well underway.
Now, the workforce is growing, both in numbers and experience, and Fortescue Family's culture is being developed implementing projects and mining iron ore.
---