Automated exhaustion system uses WEG solution to produce 50% energy savings and reduce CO2 emissions by 23 tons
Major environmental and financial benefits were achieved by WEG with the implementation of an automated exhaust system in one of its Foundry plants in Brazil.
The solution has resulted in a reduction of CO2 by 23.63 tons per year, which is equivalent to a 53% drop when compared to the original emission amount and represents a 50% energy savings on the exhaust system. It is estimated that five trees are required to absorb each ton of CO2 from the atmosphere. To absorb the amount of CO2 resulted from WEG's initiative, 118 trees are required in a year.
Applied to any exhaust system using bag filters, this solution is part of the company's policy towards environmental protection.
The same solution is already under study to be implemented also in cement, aluminum and at steel industry customers.
This is what has been done
The exhaust system with bag filter in this Foundry plant works 24 hours a day, 269 days a year. Due to process variations and demand, at least three deburring machines remain out of operation for about 12 hours a day, resulting in unnecessary extraction from such machines.
A combination of two WEG products were applied on this solution: the WMAGNET (permanent magnet) motor for energy saving from the exhaust systems. Design with constant torque along the whole speed range, this motor keeps the exhaust systems within it is operational characteristics. The second product used is the DPFREG20, which is intended for exhaust system control.
In a joint effort with Renner Textil (textile company), the bag filters life time was extended since they are now made of synthetic fibers, hence less subject to damage. This improvement results from pressure and flow setting required by the process, and it minimizes the possibility of occurring defected in these filters and reduces the emission of particles into the atmosphere. The increase of the bag filters life time, the maintenance cost reduction and the significant decrease in energy consumption on this solution are all factors much appreciated by industries due to the current availability and electric energy cost.
---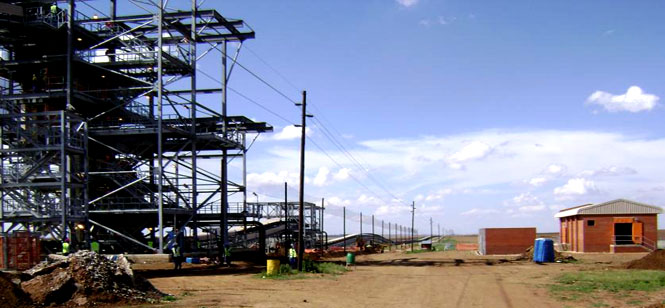 In December 2009, a team from Zest and WEG successfully commissioned the longest VSD-driven conveyor in Africa for Anglo Thermal's Zibulo Coal Mine near Witbank in Mpumalanga.
The conveyor transports coal from Zibulo mine to the Phola coal processing plant. The user friendly conveyor system reduces the environmental impact while saving energy. The association with Anglo Thermal gave Zest a keen insight into its requirements, enabling the company to provide this application-relevant, customised solution to maximise uptime and productivity, and minimise maintenance. The physical length of the Zondagsfontein conveyor presented numerous unique challenges. The length of some 16 km and a designed tonnage of 1750 tph...
required Zest to place drive pulleys at both head and tail. The head drive pulleys are driven by four WEG 500 kW VSDs and motors whereas the tail is driven by only two. This Master/Follower co-ordination of head and tail torque and speed control uses fieldbus communication over fibre optic cable. The controls also had to be integrated into the customer automation system and structure.
WEG was responsible for programming the VSD/motors combination to provide full compatibility with the customer system. This means that the central control room receives a number of feedback signals, such as speed, torque, current, power and alarms from the motors and VSDs.
Starting and running control was a highly complex undertaking. During the first start-up, the tail portion of the belt remained stationary for a full two minutes after the head was started. All six motors run at low speed for about a minute at start-up to allow tensions in the conveyor belt to equalise before the conveyor could be accelerated to full operating speed.
During normal start-up, the four head drives must operate with closely matched torque, as must the two tail drives, but the head and tail torque and speed differ considerably. So, once the belt stretch has stabilised, all six drives must match torque and speed precisely. The torque output from a 500 kW motor is potentially huge, so it is extremely important to control torque levels and load-sharing between the different motors accurately. The WEG design ensured that these complex requirements were achieved.
Subsequent to this first start up, the normal operation requires the head pulley to start first and with the tail pulleys starting twenty second later. During this time the speed is limited to around 70 rpm to ensure that the load is balanced and after five minutes accelerates to its full speed of 4.7 metres per second.
Applying this manner of VSD control to a conveyor belt results in the best possible conveyor control. One achieves minimised belt stress and mechanical wear with optimised product delivery. It also results in a longer belt lifecycle and minimum electrical power consumption. The industry is becoming increasingly conscious of the need to reduce energy consumption because of the current energy supply crisis.
The WEG CFW-09 Series of VSDs incorporates the world's most advanced drive technology for three-phase AC induction motors. The Vectrue Technology ™ enables the new generation WEG inverters to combine V/F, sensorless and closed loop vector (with encoder) control techniques in one product. The true open loop vector controls allow for high torque and fast, dynamic response, and the self-tuning means that there is automatic drive set-up to match the drive to motor and load in vector modes.
The VSDs are equipped with dead time compensation technique, thus avoiding motor instability and providing increase of torque at low speeds.
The system is running well and the mine is enjoying an increased level of safety on site. In terms of energy expenditure, the mine will recover the money invested in the installation for the conveyor in record time. This will result in major savings for the joint venture, while also reducing the operation's carbon footprint. The mine is currently in a ramp up phase and the belt has been fully load tested up to 1250 tph without any problems being experienced.
A second conveyor belt was commissioned on this site making use of four WEG 750 kW VSDs in a master/follower configuration. The calculated absorbed power is similar to that of the other installation with the only difference being the belt length.
---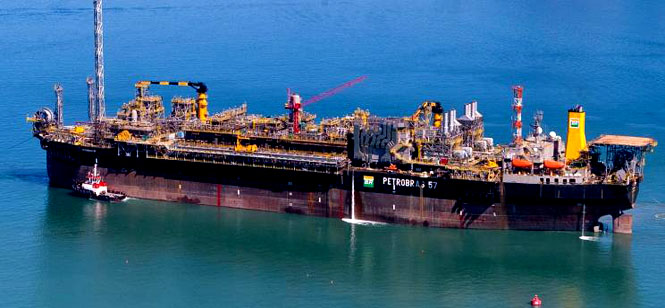 Expected to start operations this year, Petrobras P-57 will use WEG solutions to produce 180 thousand barrels of oil a day.
Petrobras has just launched P-57, a super platform with capacity to extract 180 thousand barrels of oil a day. Expected to begin the oil production at Parque das Baleias – at the north of the Campos Basin, Brazil – in late November, P-57 will rely on several WEG solutions.Supplied to Single Buoy Moorings (SBM), the company responsible for the engineering, supply and building of P-57, WEG products were shipped to the shipyard in Singapore where the ship was adapted and where most products supplied were integrated to the platform.
"The work of SBM and WEG together was not just a partnership,...
it was a joint effort to achieve one common objective. P-57 was a large and complex project with a tight schedule and the two companies stood by each other maintaining excellent communication between them and with Petrobras", says Jean-François Labrunie, FPSO P-57 - Package Manager of SBM.
The package supplied by WEG contained: Medium Voltage Panels, Low Voltage Panels, MCCs (Motor Control Centers) and Medium and Low Voltage Dry-Type Transformers among other surveillance and safety subsystems.
The supply was completed with several motors supplied to various OEMs, which worked directly with WEG. Motors for Gas Compressors were sold to MAN Turbo Switzerland; Motors for Water Pumps were sold to SULZER Brazil and Motors for General Applications were sold to KSB Brazil.
All products were certified by ABS and, when required, products were also certified for applications in classified areas according to Brazilian and international standards. "Petrobras' practice is to work together with the supplier because each project is a new challenge, an obstacle to overcome. We cannot accomplish everything by ourselves. On P-57, where the national content is very high, having local supply and support has become a determining factor. And WEG is not only a Brazilian company, it is an impressive company with true global presence: the grandiosity, the working environment, the engineering and the quality are very positive aspects that we take into account", says Claudio Jacyntho, Sector Manager of Petrobras.
P-57 is a FPSO-type platform (Floating Production Storage and Offloading) and integrates the second phase of the development of the Jubarte field. Anchored at a water depth of 1,260 meters, it will produce 17 degree API (measure of oil density) oil. It will have the capacity to process up to 180 thousand barrels of oil a day and two million cubic meters of gas. It will operate integrated to 22 wells, 15 for oil extraction and 7 for water injection. It will be the first unit with such technology to operate on the coast of the state of Espírito Santo.
Scope of the Electrical Package supplied to P-57
Product / Quantity
Medium Voltage Panels = 39
High Voltage Panels = 136
Explosion-Proof Low Voltage Panels (Eex e) = 22
Medium Voltage Transformer = 08
Low Voltage Panels = 09
Medium Voltage Motors for Pumps = 10
Medium Voltage Motors for Compressors = 04
Motors in General / OEMs (LV) = 150
PMS – Power Management System = 01
UPS– Uninterruptible Power Supply = 01
---