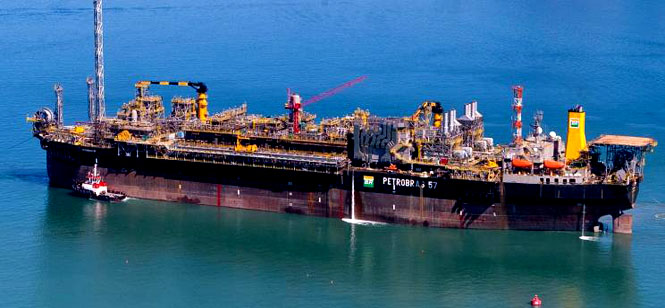 Expected to start operations this year, Petrobras P-57 will use WEG solutions to produce 180 thousand barrels of oil a day.
Petrobras has just launched P-57, a super platform with capacity to extract 180 thousand barrels of oil a day. Expected to begin the oil production at Parque das Baleias – at the north of the Campos Basin, Brazil – in late November, P-57 will rely on several WEG solutions.Supplied to Single Buoy Moorings (SBM), the company responsible for the engineering, supply and building of P-57, WEG products were shipped to the shipyard in Singapore where the ship was adapted and where most products supplied were integrated to the platform.
"The work of SBM and WEG together was not just a partnership,...
it was a joint effort to achieve one common objective. P-57 was a large and complex project with a tight schedule and the two companies stood by each other maintaining excellent communication between them and with Petrobras", says Jean-François Labrunie, FPSO P-57 - Package Manager of SBM.
The package supplied by WEG contained: Medium Voltage Panels, Low Voltage Panels, MCCs (Motor Control Centers) and Medium and Low Voltage Dry-Type Transformers among other surveillance and safety subsystems.
The supply was completed with several motors supplied to various OEMs, which worked directly with WEG. Motors for Gas Compressors were sold to MAN Turbo Switzerland; Motors for Water Pumps were sold to SULZER Brazil and Motors for General Applications were sold to KSB Brazil.
All products were certified by ABS and, when required, products were also certified for applications in classified areas according to Brazilian and international standards. "Petrobras' practice is to work together with the supplier because each project is a new challenge, an obstacle to overcome. We cannot accomplish everything by ourselves. On P-57, where the national content is very high, having local supply and support has become a determining factor. And WEG is not only a Brazilian company, it is an impressive company with true global presence: the grandiosity, the working environment, the engineering and the quality are very positive aspects that we take into account", says Claudio Jacyntho, Sector Manager of Petrobras.
P-57 is a FPSO-type platform (Floating Production Storage and Offloading) and integrates the second phase of the development of the Jubarte field. Anchored at a water depth of 1,260 meters, it will produce 17 degree API (measure of oil density) oil. It will have the capacity to process up to 180 thousand barrels of oil a day and two million cubic meters of gas. It will operate integrated to 22 wells, 15 for oil extraction and 7 for water injection. It will be the first unit with such technology to operate on the coast of the state of Espírito Santo.
Scope of the Electrical Package supplied to P-57
Product / Quantity
Medium Voltage Panels = 39
High Voltage Panels = 136
Explosion-Proof Low Voltage Panels (Eex e) = 22
Medium Voltage Transformer = 08
Low Voltage Panels = 09
Medium Voltage Motors for Pumps = 10
Medium Voltage Motors for Compressors = 04
Motors in General / OEMs (LV) = 150
PMS – Power Management System = 01
UPS– Uninterruptible Power Supply = 01
---