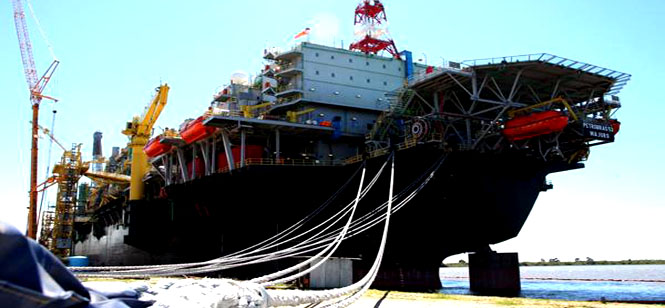 Motors, Generators and Panels are applied to Pumps, Compressors and Turbines on a platform with size corresponding to the Maracanã stadium.
WEG electric machines, designed and manufactured in accordance with the most advanced technological processes, were evaluated in conformity with strict certification criteria by inspectors of all companies taking part in this supply (equipment manufacturers, certification entities, QUIP and Petrobras).
On P-53 WEG motors drive the water injection pumps, which are responsible for the pumping of water into the oil well, avoiding an internal low-pressure condition and maintaining high levels of extraction, as well as the pumps responsible for the oil production outflow in the platform, and also those responsible for cooling systems.
The compression modules at P-53, which are supplied by DRVA, a consortium of Dresser-Rand and Vetco Aibel, count on three 13,500kW, 4 pole, 6600V, synchronous motors driven by frequency inverters, and were provided by WEG to Dresser-Rand in USA. Dresser-Rand is one of the largest and most important process suppliers for platforms as well as for the Oil & Gas market in general.
Three identical motors are already in operation at Petrobras P-54 platform driving also Dresser-Rand compressors, exporting the gas extracted from Module 2 of Roncador Field, in the Campos Basin in the state of Rio de Janeiro.
The P-54 project will provide a production of 180 thousand barrels of oil and six million cubic meters of gas per day where the motors supplied by WEG play an essential role to reach these numbers.
The three motors supplied to P-53 are just waiting for the platform to start operations. This platform will be located about 120km away from the coast, at the Marlim Leste oilfield, which is a part of the Campos Basin, and will produce the same amount of oil and gas as P-54.
Generators and panels
P-53 platform also counts with four 28.75MVA WEG generators driven by the generation modules turbines, and WEG scope of supply for the FPU also includes a 42 columns Load Center of 4000A - 65kA (resistant to internal electric arc) and a 49 removable columns MCC.
Specially designed for offshore application, the low voltage panels will be installed on Electric Modules P-08 and P-06, and all of them have been totally tested and approved being Bureau Veritas certified.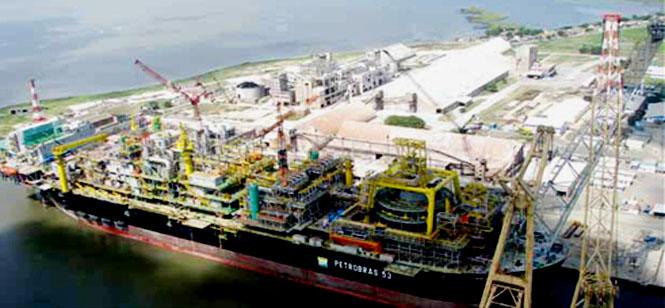 ---