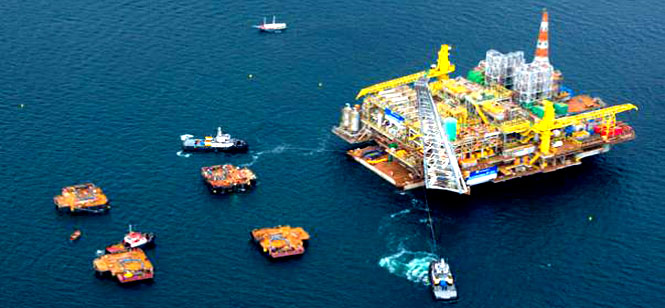 More than 110 thousand liters of Lackpoxi 76 Wet Surface paints will be used to paint Platforms P- 59 and P- 60. WEG Technology in the resistance to salinity and humidity.
To provide a finishing that offers more durability to a platform offshore with an economic life of about 25 years without causing any harm to the environment. This is the mission of the Lackpoxi 76 Wet Surface coating manufactured by WEG Coatings. The product meets customer needs such as Petrobrás which in May began coating two more Platforms, the P-59 and P-60, demanding about 110 thousand litters of paint.
Lackpoxi 76 Wet Surface coating is an efficient solution for those customers that need a product which allows application in environments with relative air humidity above 85%, offering an increase of productivity once there are no...
restrictions of application on rainy days or with high relative humidity. Since this product is solvent free, it has no harmful effect to the environment.
The whole painting will be monitored by a WEG technician who will be alert to the preparation of the surface, the way of application and issues related to product warranty. According to Gustavo Longo, WEG Sales analyst, in Brazil only three companies are authorized to sell this kind of coating and, among them, only WEG is Brazilian. "The market in this segment is very competitive and we have achieved an important place among the best", says Gustavo.
This is not the first time where WEG supplies coating products for Petrobrás Platforms. The quality of the products, in a market which is highly demanding, and the investments in research and technology allowed WEG Coatings to establish another partnership with this customer strengthening the company's performance in marine and offshore sectors.
---